Board Members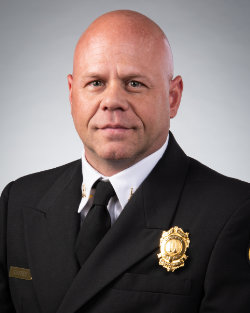 President - Michael M Caffey

Michael Caffey joined the Rockwall Fire Department in August of 2002. President Caffey was instrumental in the formation of the RPFA, Local 5057. President Caffey serves to provide the citizens of Rockwall with a professional and proactive association, with Firefighter safety as its primary goal, along with charitable service to the community. President Caffey is currently a Captain for the Rockwall Fire Dept. He holds a Bachelor's of Business Administration from Southern Methodist University in Dallas, TX, and an Associate's Degree in Fire Science from Midland College, Midland TX. He also possesses his Master Firefighter Certification from the Texas Commission on Fire Protection. Michael is an EMT through the Texas Department of Health and holds several other field certifications and training. Off duty, Michael teaches CPR, First Aid other medical courses and servers industrial clients in their safety programs, including audits and safety training. He lives in historic downtown Rockwall with his wife Amy and son Rhett.

---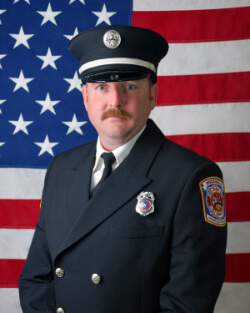 Vice President - Adam Honea
Having grown up in Rockwall since 1976, it was a passion of mine to be a part of the Rockwall Fire Department. I joined as a volunteer in 1996 and had the opportunity to become a full time Driver/Operator in 2009. My certifications include Wildland Firefighter, Driver/Operator, Advanced Firefighter, Arson Investigator, Hazards Materials Technician, Fire Service Instructor, Fire Officer I, and Master Peace Officer.

Over the last 21 years with the department I have formed great friendships with my fellow members. I also own and operate a local HVAC Air Conditioning business in Rockwall that has been in my family since 1977. I enjoy the time I have with my wife, Laurie and son, Jordan.


---
Secretary - Andrew Burton
Andrew began his firefighter career in East Texas, starting as a volunteer firefighter responding to calls in outlying rural communities. He completed his instruction in 2011 at Northeast Texas Fire and EMS Academy and went on to work for Hopkins County Fire Department and Sulphur Springs Fire Department. Andrew's certifications include Firefighter Intermediate, Driver/Operator, Hazardous Materials Technician, and Instructor I through the Texas Commission on Fire Protection. He is also an EMT-Paramedic through the Texas Department of State Health Services. Andrew enjoys spending time in the outdoors with his wife Taylor.
---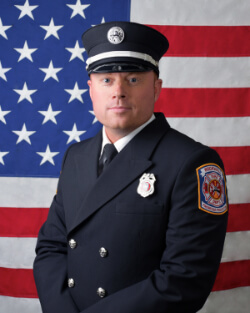 Treasurer - Jay Mckee
Jay McKee grew up in the small Collin County town of Farmersville 20 miles northeast of Rockwall. He graduated from the Kilgore College Fire Academy in 1996. He is a 19 yr veteran of the fire service and began his career in 1997. He has worked for the cities of Wylie, Mt. Pleasant and Sulphur Springs before joining the Rockwall Fire Dept in 2015. Jay holds commission certifications of firefighter advanced, driver operator, inspector advanced, instructor II, and hazardous materials technician. Jay resides in Royse City with his wife Tia and their 2 children Claire and Marshall.




---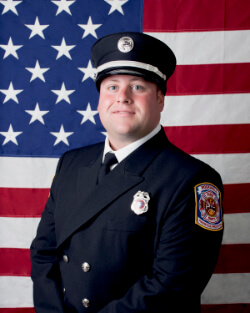 A Shift Steward - Justin Barker
Justin started in the fire service in 2002 at the age of 15 when he became a Junior Firefighter with the Whitehouse Volunteer Fire Department where his father was also a volunteer firefighter. He was hired as a full time Firefighter/ EMT for the City of Kilgore in November 2007 and worked there for more than 6 years until he was hired as a full time Driver/ Operator for the City of Rockwall in April of 2014. His certifications include Advanced Firefighter, Fire Instructor II, Fire Officer I, Driver/ Operator, Wildland Firefighter and EMT- Intermediate through the Texas Fire Commission and Texas Dept. of Health. Justin resides in Fate Texas with his wife Brittany and newborn, Bryan.



---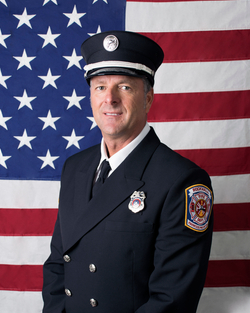 B Shift Steward - Todd Rowan
Todd Rowan joined the Rockwall Fire Department in 2006 as a volunteer, while working as a District Sales Manager for Coca-Cola covering North Texas and Southern Oklahoma. After 8 years of volunteering and over 20 years of service with Coca-Cola an opportunity for a full time position came available at Rockwall Fire Department which allowed him to retire from Coca-Cola and spend more time with his beautiful wife Tenee and his 3 wonderful kids, Alexa, Austen, and Corbin.
While at Coca-Cola, he was able to run the Special Events Department for 15 years where he was instrumental in Corporate, City and Community functions. It was there that Todd found a compassion for helping out the community and cities he covered. This is what brought him to the Rockwall Fire Department. He now has the ability to serve and help the community that his family calls home.
---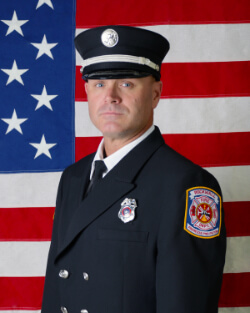 C Shift Steward -
Jimmy Cowan
I moved to Rockwall from Garland, TX in 1988 and graduated from Rockwall high in 1991. I volunteered briefly for the Heath Fire Dept after high school but then went on to pursue a career in construction management. After fourteen years in construction I decided to go back and get the job I really wanted to begin with. I began volunteering for the Rockwall Fire Dept. In May of 2008 and became a part time driver three years later. I was hired on as a full time driver in October of 2013 and am certified as a basic firefighter, EMT, Driver Operator, and Instructor 1 through the Texas Commission on Fire Protection. I have worked at station 3 on the north side of Rockwall for three years and love serving my community. I currently live in Fate with my fiance and daughters.


---